Commission Members
The Arizona Game and Fish Commission establishes policy for the management, preservation and harvest of wildlife, and makes rules and regulations for managing, conserving and protecting wildlife and fisheries resources, as well as for safe and regulated watercraft and off-highway vehicle operations.
James S. Zieler, Commission Chairman – St. Johns
James S. Zieler, of St. Johns, was confirmed as a member of the Arizona Game and Fish Commission by the Arizona Senate on March 4, 2015 following an appointment by Gov. Doug Ducey. Zieler is currently employed by the Salt River Project as a supply chain manager. Prior to beginning his career with SRP, Zieler retired as the chief of police with the St. Johns Police Department after a twenty year career in law enforcement. His law enforcement experience included assignments in patrol, special operations, undercover narcotics investigations, and gang enforcement on Arizona Department of Public Safety's state gang taskforce. He holds a bachelor's degree in Public Safety Administration from Grand Canyon University and is a graduate of the FBI National Academy. He has served on a number of executive law enforcement committees and boards. Zieler remained active in his community serving on the St. Johns Unified School District Governing Board (2007-2014), as a volunteer football coach and a volunteer with the Boy Scouts of America. Since 1999, he has conducted hunter education courses for the Game and Fish Department. Zieler is a lifelong hunter and angler and is a member of the National Rifle Association. Contact me.
Eric S. Sparks, Member – Tucson
Eric S. Sparks, of Tucson, was confirmed as a member of the Arizona Game and Fish Commission by the Arizona Senate on Jan. 26, 2016, following an appointment by Gov. Doug Ducey. Sparks has been a practicing attorney in Tucson since 1987, specializing in debtor bankruptcy law and business reorganizations. He has also been an international advocate for sustainable wildlife and habitat management, contributing extensively to conservation and resource projects, boards and committees, including Water for Wildlife Foundation and Safari Club International.
As an attorney, Sparks served as Legal Committee Vice Chairman of Safari Club International (1999-2009), the Safari Club International Museum and worked on the boards of directors of Boys and Girls Clubs of Tucson (1994-1999), Golden Eagle Firearms Corporation and the Water for Wildlife Foundation (1987-1997), among others.
A veteran of the U.S. Marine Corps, Sparks earned his Juris Doctor degree from John Marshall Law School, ranking eighth in his class. He also received a Certificate of Completion from Harvard Business School in Government Policy and Management. Contact me.
Kurt R. Davis, Member – Phoenix
Kurt R. Davis of Phoenix was confirmed as a member of the Arizona Game and Fish Commission by the Arizona Senate on Jan. 25, 2017, after being reappointed by Gov. Doug Ducey. Davis was appointed to his first 5-year term in 2012 by then-Governor Jan Brewer, and he served as Commission Chairman in 2015-16.
An avid hunter and angler, he is a founding partner at FirstStrategic Communications and Public Affairs, where he specializes in strategic public policy development for nonprofit clients, issues relating to rural Arizona, and government relations. Prior to forming FirstStrategic, Mr. Davis served as vice president of public affairs & marketing at Northern Arizona University. Earlier, he was vice president of public affairs & corporate communications at Rural/Metro, a company that provides fire and ambulance services to communities across the country.
While at Rural/Metro, Mr. Davis was asked by then-Governor Fife Symington to take a leave of absence from the company to serve as executive assistant/deputy chief of staff for the Office of the Governor. In that role, he had policy responsibility for executive agencies such as the departments of Transportation, Corrections, State Land, Game and Fish, and others. Mr. Davis has also served as director of intergovernmental affairs & issues analysis at the Arizona Attorney General's Office, executive director of the Arizona Republican Party, and held several appointed positions in the Reagan administration. He served as a gubernatorial appointment to the Arizona Board of Regents, the Vision 21 Transportation Task Force, and the Arizona State Board for Charter Schools.
Mr. Davis serves as a board member for the Great Hearts Academies, the Arizona Chamber of Commerce, and on Arizona State University's Ramsey Executive Program for Public Policy. He received his Bachelor of Science degree from Northern Arizona University in 1984. Contact Me.
Leland S. "Bill" Brake, Member – Elgin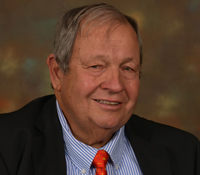 Leland "Bill" Brake of Elgin was confirmed as a member of the Arizona Game and Fish Commission by the Arizona Senate on March 6, 2018, following his appointment by Gov. Doug Ducey. An avid wildlife enthusiast, he has promoted activities with various wildlife groups in coordination with the Game and Fish Department to encourage involvement of youth and women in wildlife programs. Mr. Brake has owned and operated ranches in various Arizona counties for 50 years and has served as past president and current board member of the Arizona Cattle Growers' Association, chairing its Wildlife Committee.
He has served as an agriculture consultant for DuPont Agriculture and as chief operating officer and president for distribution of heavy fuels and asphalt for HollyFrontier, which manufactures and markets a variety of asphalt-related products. He served as past chairman of the Arizona Rock Products Association. Mr. Brake is active in the community, serving as a board member and current chair of the Advisory Committee for the University of Arizona's School of Natural Resources (Wildlife and Range Management), and on the Resource Advisory Committee (RAC) for the Bureau of Land Management for Arizona. He earned a Bachelor of Science in Range Management, with a minor in Wildlife Management, from the University of Arizona. Contact Me.
James R. Ammons, member – Yuma
James R Ammons of Yuma was confirmed as a member of the Arizona Game and Fish Commission on January 20, 2014, following his appointment for a five-year term by Governor Jan Brewer. A third-generation Yuma native, Mr. Ammons and his family have long enjoyed hunting and spending time in the great outdoors. He has extensive experience in both business and wildlife issues.
Mr. Ammons has owned and operated River Cities Adjusters, a Yuma-based transportation service, since 1978 and served as a board member of AEA Federal Credit Union (1981-94).  He is a life member of the Yuma Rod and Gun Club where he has served as a board member (2007, 2010) and president (2004-06, 2008-09). He was named their "Sportsman of the Year" (2010) and played an instrumental role in implementing policy and bylaw changes that allowed membership for women.
Mr. Ammons has worked on multiple waterhole development projects, various wildlife conservation initiatives, and in BLM Recreation Management planning. He is a member of the Arizona Antelope Foundation, the Arizona Mule Deer Association, the Arizona Elk Society and the Rocky Mountain Elk Foundation — and is a life member of the Wild Sheep Foundation; Grand Slam Club; and the Arizona Desert Bighorn Sheep Society. Contact Me.