History of Sterling Springs

Sterling Springs Hatchery comprises 2 acres at the headwaters of Oak Creek. The property is owned by U.S. Forest Service (Coconino Forest), and has been operated by the Department's Hatchery Program since 1955. The hatchery was renovated in the 1970's to provide a multi-use raceway system. Species Raised: rainbow trout, brown trout and occasionally gila trout.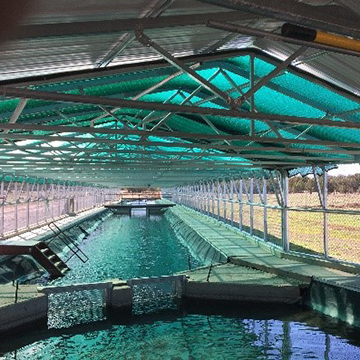 Fish production history
The primary purpose of the hatchery is to supply Page Springs Hatchery with approximately 1.3 million fingerling trout for growth out and stocking. Some of the trout fingerlings reared by Sterling Springs Hatchery are stocked directly into select waters. Sterling Springs Hatchery has a single residence with separate garage and bunk house, a hatchery building, a storage shed, and several outdoor concrete raceways. The property is staffed by two full-time employees, with one residing on site. Both employees are responsible for day-to-day operation and maintenance of the site.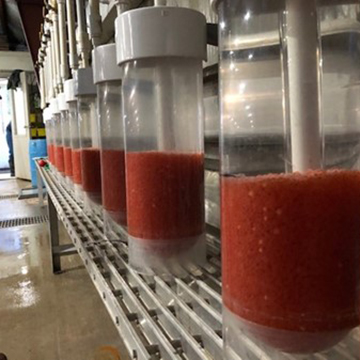 Hatchery location
Sterling Springs Hatchery is located along Oak Creek between Sedona and Flagstaff on Highway 89A. From Flagstaff, drive south on I-17 to exit 337 towards AZ-89A S approximately 11 miles to the hatchery. From Phoenix, drive north on I-17 to exit 337 toward AZ-89A S and follow the road approximately 11 miles to the hatchery.
Sterling Springs Property Habitat
On May 24, 2014 the Arizona Game and Fish Department (AZGFD), with the assistance of the Slide Fire incident command team, went behind fire lines to rescue 600,000 trout from the Sterling Springs Hatchery on Oak Creek. A year later the hatchery was up and running with no damage from the fire.
In 2019 AZGFD conducted a major renovation of the Sterling Springs Fish Hatchery in Oak Creek Canyon, north of Sedona. The nearly $3.3 million project for Sterling Springs involved the rehabilitation of the water inflow pipes leading to the hatchery, as well as various spring/control boxes along the pipelines. Also, the outside concrete raceways and water pipelines were replaced. The project included a cover canopy and fence around raceways, a new storage building, and a partial recirculation system, among other hatchery improvements.
Wildlife in the Habitat Area
sterling springs wildlife

Wildlife

The unique setting of Sterling Springs Hatchery provides habitat for a diversity of wildlife species.

Mammals: A few fish-eaters are known to stop by and try to sample trout. Raccoons try to find their way into the enclosure. In the surrounding ponderosa pine forest, elk, mule deer, whitetail deer, bobcat, mountain lion, fox, coyote and black bear can occasionally be spotted.

Management goals of the Sterling Springs Fish Hatchery property are to provide for the continued operation of fish culture activities, and to provide educational interpretation.
Want to Go Fishing around the State?
Find ways to experience fishing all over the state, including community waters.
buy your fishing license
If you need a fishing license, a combo hunt & fish license, or a short-term license, read about them here.
buy now
find a community lake to fish
There are 50+ community lakes in Arizona. Make a memory fishing with the family!
lake locations