Bison
Based on the evidence and consistent with it's long-term management of bison as wild big game in Arizona, the Department's position is that bison are native wildlife within their original historic range in Arizona.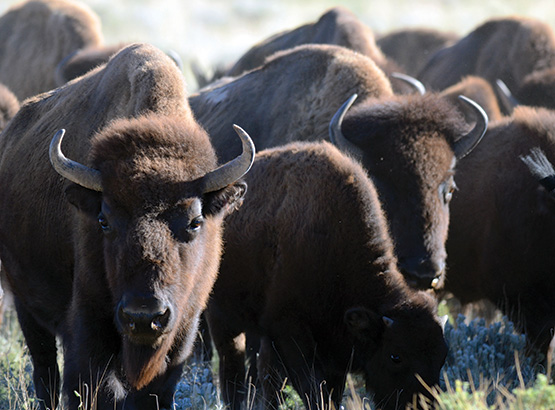 About
Bison are an American conservation success story and an icon of wildlife conservation. In 2016 to commemorate it's storied past, bison were recognized as the official U.S. mammal.
Several recent studies in the southwest have concluded plains bison are native to the southwest, placing northern and eastern Arizona within the species' historical continental range. The Department of the Interior Bison Conservation Initiative, included areas at the edge of the species' historic range such as the Grand Canyon region.
History
In 1906, a former bison hunter and rancher named Charles "Buffalo" Jones trailed 87 bison about 175 miles from Utah to the Kaibab Plateau. This area at the time was set aside by President Theodore Roosevelt in a proclamation known as the "Grand Canyon Game Preserve". Jones personally caught most of these bison as calves in the 1880's from the last remaining wild bison herds from the Texas panhandle and northeast New Mexico. The Grand Canyon Game Preserve was "set aside for the protection of game animals and shall be recognized as a breeding place." View a presentation about House Rock bison herd, and Raymond bison conservation herd.
Our Mission
To conserve Arizona's diverse wildlife resources and manage for safe, compatible outdoor recreation opportunities for current and future generations.
Hunt Regulations
Rules and regulations for hunting in Arizona.
Regulations for spring hunts, fall hunts and pronghorn, elk hunts.