Dusky Grouse
Dusky grouse are named after the bluish-gray appearance of the male. In Arizona grouse are found in the mixed conifer and aspen forests above 8,500 feet. As a consequence, these birds are only found in the White and Escudilla mountains, north Kaibab, and the San Francisco Peaks where they were introduced in the mid- 1970s.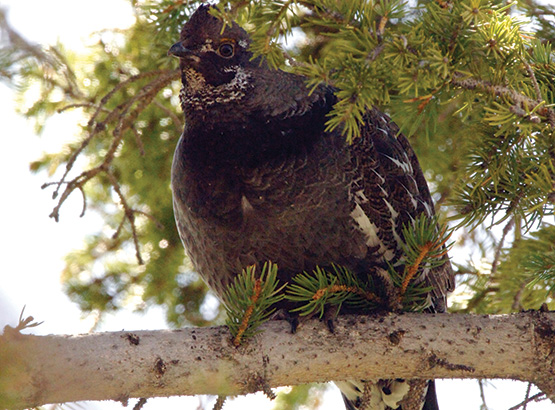 About
Dusky grouse in Arizona do not migrate downhill during the winter months as they do in the more northern states. Instead, they spend the winter roosting in Douglas-fir trees, subsisting on needles until spring when the males form small "leks" or strutting grounds, which they occupy from April through June. Oftentimes these leks are located on a fallen log or in a small clearing in the forest, where the cock attempts to engage any hen that comes his way with soft "hooting" displays and "flutter flights."
Hunting & Trapping History
A variety of grouse season dates have been authorized, but the number of grouse hunters has remained low due to the birds general scarcity and the steep terrain and high elevations of their habitat. Hunter numbers have never reached 800 in any given year, and the annual harvest since 1973 has been only 300 to 700 grouse.
Our Mission
To conserve Arizona's diverse wildlife resources and manage for safe, compatible outdoor recreation opportunities for current and future generations.
*Attention dusky grouse hunters: The Department would like to survey dusky grouse hunter participation and success. To do this we are asking hunters to provide an address or email to the Department's small game biologist, so that they can be surveyed directly after the end of the season. This may be done by sending an email to smallgame@azgfd.gov or through U.S. mail to the Department's main office, and sending it attention to Terrestrial Wildlife Branch.
Hunt Regulations
Rules and regulations for hunting in Arizona.
Regulations for spring hunts, fall hunts and pronghorn, elk hunts.