What you Need to Know to Adopt a Tortoise
Each year the Arizona Game and Fish Department adopts out hundreds of captive desert tortoises that are surrendered to the department. These tortoises cannot be released back into the wild because captive tortoises can transmit diseases that can decimate our wild population. Desert tortoises are nontraditional pets, but are fascinating animals and families can gain an appreciation of desert wildlife by caring for a tortoise and watching its natural behavior.
Adoption applications are being accepted year round.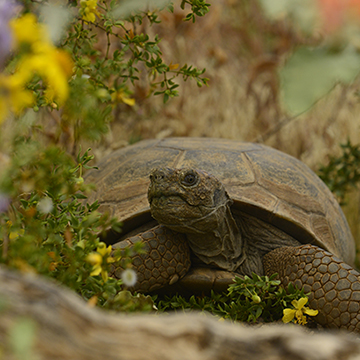 Tortoise adoption
Adoption applications are being accepted year round.
Before submitting your adoption application, see the resources below to learn about desert tortoises and what's required to properly care for one. Adopters should also consider that healthy tortoises can live upwards of 80-100 years and should have a long-term plan in place in either a will or other succession plan as the tortoise may outlive its caretaker.
Application process
Desert Tortoise Adoption Guide
Adoption Guide – Spanish version
Paper application: Desert Tortoise Adoption Application. E-mail the completed application and photos of the tortoise's constructed habitat and burrow to TAP@azgfd.gov or mail to Tortoise Adoption Program, 5000 W. Carefree Highway, Phoenix, AZ 85086.
Frequently Asked Questions
Frequently asked questions about living with wildlife and desert tortoises.
Should I pick up sick or injured wildlife?

There is almost NEVER an occasion when you should remove a wild animal from its natural environment.
It is always better to call a wildlife rehabilitator to remove or assess a wild animal than to do it yourself.
If you've already picked up a young animal, please put it back exactly where you found it, or under/in a shrub nearby where its mother can find it.
Can i adopt more than 1 tortoise?

Per Arizona Game and Fish Commission Order 43, "Possession limit is one desert tortoise per person per household." AZGFD Rule (R12-4-407) states it is illegal to breed desert tortoises.
I can no longer care for my tortoise. What can I do?

In Arizona, it is illegal to release any tortoise into the wild. Releasing a tortoise into the wild can be detrimental to wild tortoises because it can spread disease and disrupt uniquely adapted genetics in wild populations.

Almost all of the desert tortoises that are available for adoption are previous pets. We understand that situations may arise that may result in you needing to find a new home for your tortoise. If this happens, please call our Desert Tortoise Adoption Program at 844 896-5730 and we can assist in finding a new home.
I found a Tortoise, what do I do with it?

If you are in an open, "wild" area and come across a desert tortoise, chances are it is wild and is just living its life and you should leave it alone. If you observe a potentially injured tortoise or you find a healthy one in a populated area, please call the Desert Tortoise Adoption Program, 844 896-5730 so that we can help make the best decision for that tortoise. It is illegal and detrimental to desert tortoise populations to collect tortoises from the wild.
Can I breed my pet Tortoise?

Breeding captive tortoises is illegal and increases the number of captive tortoises needing adoptive homes, but occasionally an adult female desert tortoise may lay viable eggs from mating years earlier, resulting in tortoise hatchlings in your backyard enclosure. In this case, it is important that they are kept outside so that they can receive sunlight to help develop a healthy shell and bones. Contact the Desert Tortoise Adoption program coordinator as soon as possible if you recently adopted a female desert tortoise and suspect she may be gravid, or is laying eggs, or if you find hatchlings in your backyard and need to surrender them to the adoption program.
I need to move, can I bring my pet tortoise with me?

Tortoises Native to Arizona Must Remain in Arizona.

Under state law, desert tortoises cannot be removed from Arizona so if a tortoise caretaker plans to move from the state or passes away and no succession plan is in place (such as a will), it must be returned back into an approved adoption facility. If the tortoise is relocated within the state, please contact the nearest adoption facility to update the tortoise's information in our records.
I live in Tucson. Is there an Adoption Center near me?

The Arizona Sonoran Desert Museum (ASDM) is a state sanctioned adoption facility in Tucson. We work closely with our partners at ASDM, you can select your preferred adoption location within the online application.
Want to Get Involved with Wildlife Conservation?
Volunteer your time, or donate to help us with conserving and protecting our wildlife. When you purchase a hunting or fishing license online, resources go back into wildlife conservation.
donate to wildlife conservation
With your help, we can continue to conserve & protect Arizona's wildlife.
donate
volunteer for projects
If you have a passion for wildlife and want to help us conserve and protect it, we'd love to have you on our team!
find your best match