Wildlife Habitat Issues and Improvements

Habitat Partnership Committees (HPCs) are designed to facilitate local decision making regarding wildlife habitat issues and improvements, and act as a vehicle for partnership development and communication between private, state, and federal entities. Creating partnerships between habitat improvement proponents and potential funding programs or funding organizations is a major focus of the Arizona Habitat Partnership Committee program.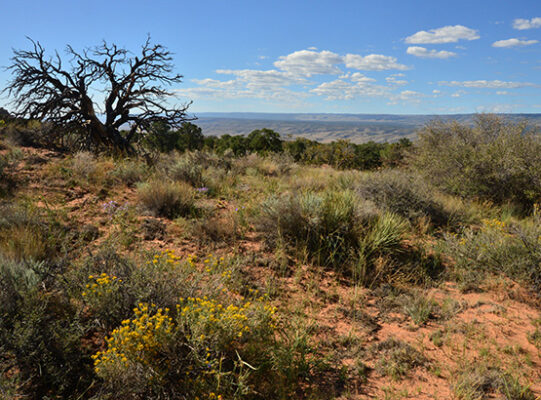 These partnerships allowed enhancements for habitat with projects that range from grassland restoration and prescribed fires, to water catchment redevelopments and stock tank repairs.

Partners in Wildlife Habitat Conservation – Arizona Wildlife Views Video
View 2018 HPC Project Funding
View 2019 HPC Project Funding
View 2020 HPC Project Funding
View 2021 HPC Project Funding
> View 2021 Funded HPC Proposals
View 2023 HPC Project Funding
> View 2023 Funded HPC Proposals
Background of the Habitat Partnership Committee Program
Established by the Arizona Game and Fish Commission in 1992, the Arizona Elk Habitat Partnership Committee and affiliated Local Habitat Partnership Committees were created to address and reduce elk and livestock conflicts and to promote partnerships through cooperative projects.
In January 1996, the program concept expanded beyond elk and livestock conflicts and was renamed the Arizona Habitat Partnership Committee to better reflect an ecosystem approach to wildlife habitat management and related projects. Active local Habitat Partnership Committees (HPCs) meet in Springerville-Alpine, Winslow, Show Low, Williams-Flagstaff, Prescott, Yuma, Safford, Tucson, Sierra Vista, and Payson. The Forage Resource Study Group in Coconino County also participates as an affiliate member.
There are currently 13 Local Habitat Partnership Committees (LHPC) and one affiliate member across the state, which comprise the Arizona Habitat Partnership Committee (AHPC). All of these committees focus on putting money on the ground to improve habitat or management for big game species, although many projects benefit other wildlife and livestock as well.
The State HPC Committee meets twice a year.
The program's primary funding source is Special Big Game License-Tag funds, although the HPC strives to incorporate multiple funding sources to bring the maximum benefit to wildlife. The Commission annually awards 3 special big game license-tags per big game species to nonprofit wildlife conservation organizations that auction or raffle these tags to raise funding that is used to benefit the wildlife species for which the license-tag is issued. The sponsoring wildlife conservation organizations must cover all marketing and administrative costs for the license tag sales, and 100% of the money raised is returned to the state of Arizona.
These funds are allocated through the HPC Program by collaboration between the Department and the wildlife conservation organizations that market and sell the tags. Once project proposals are submitted, the Department coordinates with these wildlife conservation organizations and funding is allocated to the projects that provide the most benefit to big game species in Arizona.
HPC Charter
Contact Your HPC Committee
For information and learning about the committee.
HPC contact information

State HPC Chairman: Bill Brake, Commissioner, AGFD Commission
State HPC Co-Chairman: James Goughnour, Commissioner, AGFD Commission
State HPC Coordinator: Andrew Cavalcant, acavalcant@azgfd.gov
Special Big Game Tag Fund Administrative Coordinator: Ruth Gregory

Local HPC Contact List

Forage Resource Study Group
AZGFD contact: Steve Cassady, scassady@azgfd.gov

Arizona Strip Habitat Working Group
AZGFD contact: Tim Shurtliff, tshurtliff@azgfd.gov

Kingman HPC
AZGFD contact: Cody Johnston, cjohnston@azgfd,gov

Payson Natural Resources Committee
AZGFD contact: David Daniels, ddaniels@azgfd.gov and Jake Jager, jjager@azgfd.gov

Prescott HPC
AZGFD contact: Darren Tucker, dtucker@azgfd.gov

Show Low HPC
AZGFD contact: Bob Birkeland, bbirkeland@azgfd.gov

Safford HPC
AZGFD contact: Kirby Bristow, kbristow@azgfd.gov

Sierra Vista-Douglas HPC
AZGFD contact: Kirby Bristow, kbristow@azgfd.gov

Southwest Arizona HPC
AZGFD contact: Mike Rice, mrice@azgfd.gov

Springerville-Alpine HPC
AZGFD contact: Velma Holt, vholt@azgfd.gov

Tucson HPC
AZGFD contact: Kirby Bristow, kbristow@azgfd.gov

Williams-Flagstaff HPC
AZGFD contact: vacant

Winslow HPC
AZGFD contact: Bob Birkeland, bbirkeland@azgfd.gov
Want to Get Involved with Wildlife Conservation?
Volunteer your time, or donate to help us with conserving and protecting our wildlife. When you purchase a hunting or fishing license online, resources go back into wildlife conservation.
donate to wildlife conservation
With your help, we can continue to conserve & protect Arizona's wildlife.
donate
volunteer for projects
If you have a passion for wildlife and want to help us conserve and protect it, we'd love to have you on our team!
find your best match