Bighorn Sheet Boat Tours
Canyon Lake is home to some of the largest desert bighorn rams found in North America and provides one of the best locations for congregating sheep. Participants will board boats to explore the canyons while biologists interpret bighorn behavior.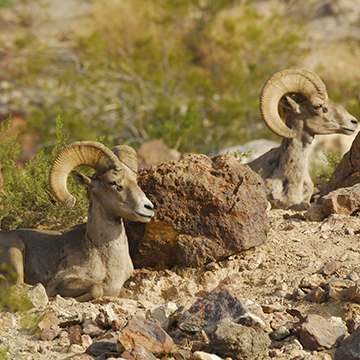 Event overview
WHEN: June
WHERE: Canyon Lake
DURATION: 3 – 4 hours
WHO CAN ATTEND: Ages 10 and up 
WHY ATTEND: Learn and experience desert bighorn sheep in Arizona
WHAT TO EXPECT: See bighorn sheep up close!
about the event
Participants will board AZGFD boats to explore the canyons of this scenic lake. Biologists aboard each of the boats will share and interpret bighorn behavior and biology. Attendees will need an $8 Tonto Pass for each vehicle parked at the lake. Tonto Passes are available at a variety of convenience and sporting goods stores around the Valley or from any Tonto National Forest Office.

Participants register and pay online for the tour.
about the species
At their peak, North American bighorn sheep numbers were estimated at 2 million. Desert populations have since fallen to about 20,000. Arizona's total bighorn population is estimated at about 6,000 animals. 
As part of our mission to conserve and protect Arizona's wildlife, AZGFD is committed to monitoring and studying these incredible mammals to ensure their survival in our state.
attend
We look forward to setting sail with you at our next bighorn sheep tour! Events can fill up fast so register to secure your spot at an event today. Already registered? Looking for ways to engage with wildlife in the meantime? Check out our live wildlife viewing cams. These cameras are streaming 24 hours a day to allow for an intimate glimpse of the daily lives of these fascinating animals. Wherever you are, get connected.
Want to Get Involved with Wildlife Conservation?
Volunteer your time, or donate to help us with conserving and protecting our wildlife. When you purchase a hunting or fishing license online, resources go back into wildlife conservation.
donate to wildlife conservation
With your help, we can continue to conserve & protect Arizona's wildlife.
donate
volunteer for projects
If you have a passion for wildlife and want to help us conserve and protect it, we'd love to have you on our team!
find your best match