Presentation and Viewing Event for Bison
Bison are synonymous with the west, but not many people realize that Arizona is home to these magnificent animals and AZGFD manages two herds, the Raymond Wildlife Area, and the Rock House Herd.
Bison are an American conservation success story and an icon of wildlife conservation. In 2016 to commemorate it's storied past, bison were recognized as the official U.S. mammal. National Bison Day is recognized annually on the first Saturday of November.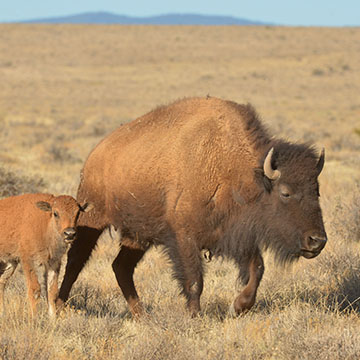 Event overview
WHEN: November
WHERE: Raymond Wildlife Area
DURATION: 3 – 4 hours
WHO CAN ATTEND: Ages 10 and up 
WHY ATTEND: Learn about and experience first-hand, our largest native terrestrial mammal in Arizona.
WHAT TO EXPECT: Learn about their natural history.
about the event
Registrants will meet at Raymond Wildlife Area, where there will be a presentation about the natural history of bison. Then folks will get an up close look at these animals and learn about the ecology and conservation of our largest native terrestrial mammal from the biologists who manage them.

Participants register and pay online for the tour.
about the species
Arizona's bison population was transplanted from the Wind Cave bison herd in South Dakota. Forming a meta-population of at least 1,000 bison; which the Department manages to protect the lineage from inbreeding and genetic loss.
As part of our mission to conserve and protect Arizona's wildlife, AZGFD is committed to monitoring and studying these incredible mammals to ensure their survival in our state.
attend
Want to explore bison at the Raymond Wildlife Area with us? Events can fill up fast so register to secure your spot at an event today. Already registered? Looking for ways to engage with wildlife in the meantime? Check out our live wildlife viewing cams. These cameras are streaming 24 hours a day to allow for an intimate glimpse of the daily lives of these fascinating animals. Wherever you are, get connected.
Want to Get Involved with Wildlife Conservation?
Volunteer your time, or donate to help us with conserving and protecting our wildlife. When you purchase a hunting or fishing license online, resources go back into wildlife conservation.
donate to wildlife conservation
With your help, we can continue to conserve & protect Arizona's wildlife.
donate
volunteer for projects
If you have a passion for wildlife and want to help us conserve and protect it, we'd love to have you on our team!
find your best match