Photography Tour to Experience the Sandhill Cranes
AZGFD biologists, with award-winning photographer George Andrejko, provide an exclusive opportunity to learn about and photograph these spectacular birds. Andrejko will be available to provide advice and instruction for both novice and experienced photographers.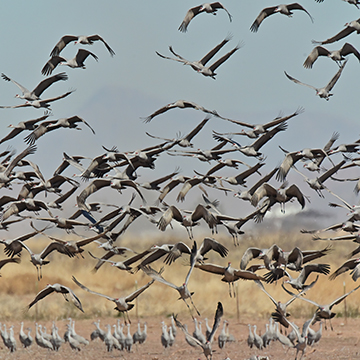 Event overview
WHEN: January – February
WHERE: Whitewater Draw Wildlife Area
DURATION: 6 hours 
WHO CAN ATTEND: Ages 10 and up
WHY ATTEND: Experience the environment these beautiful migrant birds flock to, while getting wildlife photography tips.
WHAT TO EXPECT: Get an unfiltered view of the migration of this incredible species in action.
about the event
Join AZGFD biologists and award-winning photographer, George Andrejko, at Whitewater Draw Wildlife Area in McNeal, Arizona, which is a roosting site for 20,000+ Sandhill Cranes each winter. Join us to learn more about these beautiful creatures through observation and photography. George will be available for both novice and experienced photographers, on how to photograph these amazing animals.

Participants register and pay online for the tour.
about the species
Across the globe, there are 15 species of cranes. Two species are found in North America — sandhill, the most abundant species, and the endangered whooping crane. Sandhills are wary birds that prefer to feed and roost in open areas where potential danger can be seen from a distance. 
As part of our mission to conserve and protect Arizona's wildlife, AZGFD is committed to monitoring and studying these incredible cranes.
attend
Experience these visitors before they fly away! Events can fill up fast, so register to secure your spot at an event today.
Already registered? Looking for ways to engage with wildlife in the meantime? View our live wildlife viewing cams. These cameras are streaming 24 hours a day to allow for an intimate glimpse of the daily lives of these fascinating animals. Wherever you are, get connected!
Want to Get Involved with Wildlife Conservation?
Volunteer your time, or donate to help us with conserving and protecting our wildlife. When you purchase a hunting or fishing license online, resources go back into wildlife conservation.
donate to wildlife conservation
With your help, we can continue to conserve & protect Arizona's wildlife.
donate
volunteer for projects
If you have a passion for wildlife and want to help us conserve and protect it, we'd love to have you on our team!
find your best match